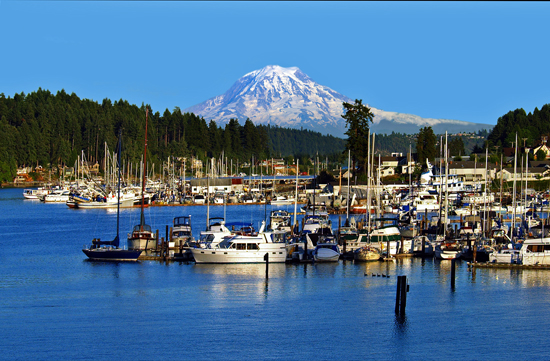 Gig Harbor, Washington. Beautiful.

Many of you have heard me recount this story before. Some have heard the whole thing, some have only heard bits and pieces. Well, I have decided to drop the whole thing on you all today. I can't think of anything else to write about and apparently, I'm a tap dancing clown that likes it when people laugh at my expense.

Fair warning: The punch line to this story is pretty friggin gross and probably more detailed than it needs to be. But it is also pretty damn funny. Proceed at your own risk.

I believe it was May of 2003. I had a job starting up in a few weeks (code for I was unemployed and didn't have shit to do). My big gay brother, Big Gay Al (again, he's straight, it's just fun to say) was driving through Boise on business when his car died. It took a few days to fix, so his company flew him home to Salt Lake and was going to later fly him back to pick up the car and drive it home. Al had a full plate at the time so he suggested that I fly to Boise with his company's gas card and drive his Honda back. I like to drive and I hadn't been in that area in a long time so I decided to do it.

I flew to Boise, picked up the car and was driving down I-84 listening to some CD's of stolen music from Limewire. This was music I had downloaded a year or so before and I just hadn't gotten around to listening to until then. It was Tom Waits and my friends, it was good. I was listening and relistening to every song, trying to absorb the lyrics. It's always exciting to discover a new band. I was totally focused on this new project of mine, to consume and digest the 30 something year career of Tom Waits. As I was driving, I remember being surprised by how green and beautiful southern Idaho was. This wasn't a road I had ever driven, but I know that there isn't much to look at west of I-15 in northern Utah. How did Idaho get this scenic? And what are these mountains I'm looking at? Oh well, back to Small Change.

After about two and half hours, I pulled over to add some gas and subtract some pee. When I pulled into the gas station, some nice high school girl came out to fill up my car. "Oh, I'm sorry. Is this the full service section?" "No, every gas station is full service in Oregon."

Son of a bitch. I just drove two hours in the wrong direction. Damn you Tom Waits and your awesome music! I take a little time to swear, laugh at myself and get my bearings. I was in La Grande, Oregon, which is the town my Grandpa grew up in, oddly enough and I was about 7 hours from Salt Lake. But as I'm looking at the map, I realize I'm also about 6 hours from Seattle. Seattle is where my dad grew up and I served my mission in near by Tacoma. I love the Puget Sound and I know a lot of people up there that I haven't seen in a few years. Screw it, I have a gas card and a Honda Accord. I'm taking an accidental road trip.

I still had quite a bit of day light and a full tank of gas as I headed northwest through the Tri Cities. The sun started getting low in the left corner of my windshield illuminating the sprinkler pipes from the alfalfa fields such that I could almost make out the single droplets of water as I drove by. A mountain valley with green fields and irrigation pipes in late afternoon sunlight is one of the most serene things to behold, especially when you view it at 90 miles an hour with an open highway ahead of you.

I picked up a hitchhiker outside of Yakima, a nice young guy trying his best to be a hippie. The first thing he said when he got in the car was "Okay, man. Got a deal for you; I don't kill you, you don't kill me." I accepted and we made polite conversation until Ellensburg.

I got to Seattle that night and spent two days driving around seeing old friends, eating at restaurants I used to frequent and revisiting a great time of my life. It's amazing how detailed and random the memories are when you return to a place in which you spent a lot of time. I had no idea that there was a part of my brain whose soul purpose is to retain the smell of Bremerton, Washington. But it's filed away up there.

I ended up driving down the Washington coast on Highway 101 through Oregon. My plan was to take this road to San Francisco and then take I-80 home. Like I said, I had someone else's gas card.

Now, one of my friends from college had just started grad school at Cal Davis near Sacramento. Her name was Janelle. She is a very nice person who lived across the street from me in Provo the previous year. I gave her a call to see if I could crash on her couch. She lived in the only "Mormon Girl" house near campus and her roommates were a little hesitant about letting some strange dude sleep there. I respect that, but am I really going to impregnate them all? Anyway, she convinces them to let me stay and at about four in the morning, I pull into town.

At about eight o'clock the next day, people start making breakfast and getting ready for the day. I had slept (poorly) in the car at a rest stop the night before and I had the most miserable drive of all time ahead of me. Sacramento to Salt Lake is brutal. I was in the front room with people coming in and out and I needed some good sleep. So Janelle told me just to go sleep in her room, I think mostly so she could get that snoring bum off their couch.

Now let me take a moment and explain a pretty simple concept. If a factory is manufacturing a product and that product is not being consumed, then it needs to go into some kind of warehouse for storage. If the warehouse is overflowing with inventory, than it reasons that some means of liquidation would be necessary, especially if manufacturing of said product is still in process. This concept is a very relevant one for those of us who are male, single and Mormon. That morning, Captain Midnight struck and he struck hard.


If you have no idea what the hell I'm talking about, allow me to be more graphic. I had one hell of a wet dream. Dude, it was a five squirter. I mean I blew it all over the place. I woke up at about one o'clock that afternoon disoriented, sticky and a half pound lighter. Now I didn't pack for this trip. I'm wearing the same shorts I wore to the airport three days earlier. I gave up on my underwear two days before and I had twelve hours of driving ahead of me. I jumped in the shower with my shorts on, rinsed them off the best I could. I packed up my gear, rubbed the puddle into her sheets and got the hell out of there.





"See ya Janelle, thanks for letting me crash."

"Don't you want some breakfast?"

"Nope, gotta get goin'." (sound of car door slamming, engine starting and tires peeling out of driveway)

To this day, I'm quite sure she thinks I was engaged in some other behavior in her room that morning. I wasn't. Seriously, I wasn't. But either way, she will think twice before doing another favor for me again. So Janelle, if you're out there, my deepest apologies.


I would like a little feedback on this one. If this story offends your better senses (and it should) please let me know and I won't go this route anymore in the future.